Atkore Vergokan manufactures and distributes metal cable support systems. The company has several production sites, including three in Belgium. Atkore Vergokan exports its products just about worldwide. Their cable support systems are used in office buildings, industry, tunnels, hospitals, shopping centres, sports stadiums, stations, etc. The company also markets a wide range of surface applications.
They have around 18,000 items in stock at their warehouse. These primarily finished stock items are spread across various departments. This was because there was no real warehouse management system in place previously, until recently all movements – from picking to packing, from transfers to shipments – were registered manually. Moreover, warehouse staff often had no clear view of the detail locations of the items and there was no watertight inventory system.
"By working with scanning, manual registrations are no longer necessary. This has resulted in huge time savings." – Christophe Vanmeirhaeghe, Warehouse Manager
Atkore Vergokan had a pressing need for an automated WMS that could ensure well-organised inventory and efficient location management. This needed to be capable of registering and following up all movements, relocations and operations (such as picking and packing) in the warehouse more efficiently and more quickly, but the inventory also had to be more accurate and run more smoothly.
"Stock reliability is now between 98 and 100%."
Atkore Vergokan ultimately opted for IDwms from PHI DATA. This Smart Edge solution synchronises the entire flow of information in the warehouse with the movement of goods on the work floor. Each item in the warehouse was given a unique number via an identification label. By scanning the label with an industrial handheld computer, the warehouse staff member is in real-time contact with the WMS database. By automating the registration of all movements, there are fewer errors and less administrative work involved in the reception, storage, picking and dispatch of items. Another advantage of IDwms is that stock is always correct and up-to-date.
"Whereas previously a warehouse staff member needed to have product knowledge to know where all the items were, now anyone can do order picking."
Users at Atkore Vergokan have noted higher productivity and better real-time visibility of items in the warehouse. Annual stock-takes are no longer necessary: counts are now made throughout the year using the inventory module. It was also possible to seamlessly integrate IDwms with the existing SAP invoicing system.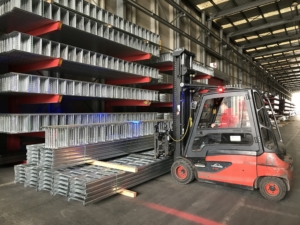 ---
Challenges
Automate the registering of item movements
Simplify the administrative processing
Implement efficient location management
Precise and rapid stock-taking
Smart Edge solution
User-friendly combination of software (IDwms) and hardware (TC8000) that integrates perfectly with the existing SAP ERP system.
Technology
IDwms software from PHI DATA
TC8000 devices from Zebra (18 units)
Advantages
Higher productivity in the warehouse
Improved real-time visibility of items and their locations
Simple management of the movement of goods
Well organised location management
Time savings and reduced error margin
Administrative work minimised